Recipes
---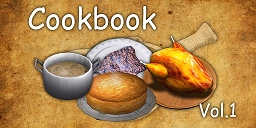 Ingredients must be added in the exact order of the recipe.
Cookbook v1.22 Recipes
The following recipes are from the v1.22 G&S Cookbook, available inworld as a hud to read onscreen or to rez as a book. There are also 'secret recipes' to cook on the G&S Kitchen – these must be studied on the desk to gain the knowledge to make the recipes!
Energy Points (EP): Eating the G&S food adds energy to the RP-Hud which is required for various tasks eg. caring for fields and plants.
*Updated September 2021*
Name
Energy
Ingredients
Algae Bosk Soup
(Sopa de Algas y Bosk)
45EP
1x Butter (Mantequilla)
1x Bosk Meat (Carne de Bosk)
1x Sake
1x Seaweed (Alga)
1x Water (Agua)
Algae Soup
(Sopa de Algas)
36EP
1x Water (Agua)
1x Seaweed (Alga)
1x Butter (Mantequilla)
1x Flour (Harina)
Athanatos Shepherds Pie [G&S]
(Pastel de pastores Athanatos)

100EP
1x Butter (Mantequilla)
1x Suls
1x Mince (Carne Picada)
1x Cheese Plate (Plato de Queso)
1x * Athanatos * Appellation Wine
Athanatos Verr Chops
(Chuletas de verr Athanatos)
60EP
1x Tomato
3x Verr Meat
1x * Athanatos * Appellation Wine
Bacon – Fried
(Beicon Frito)
21EP
1x Bacon (Beicon)
Bacon & Cheese Toast
(Tostada de Bacon y Queso)
30EP
1x Bread (Pan)
1x Bacon (Beicon)
1x Cheese Plate (Plato de Queso)
Bacon Pie
(Pastel de Bacon)
36EP
1x Suls
1x Butter (Mantequilla)
1x Bacon (Beicon)
2x Egg (Huevo)
1x Fish (Pescado)
Bacon with Egg
(Bacon con Huevo)
27EP
1x Bacon (Beicon)
1x Egg (Huevo)
Bacon, Egg & Toast
(Tostada, Bacon y Huevo)
30EP
1x Bacon (Beicon)
1x Egg (Huevo)
1x Bread (Pan)
Bait
For Fishing Rod [G&S] 2.0
0EP
5x Fish (Pescado)
Baked Dwarf Tarsk with Suls
42EP
1x Dwarf Tarsk (Tarsk Enano)
1x Paga Bowl (Cuenco Paga)
1x Suls
Baked Salmon
(Salmon al Horno)
26EP
1x Butter (Mantequilla)
1x Suls
1x Salmon
1x Cream (Nata)
1x Sake
Baked Suls with Butter
(Suls al Horno con Mantequilla)
24EP
1x Suls
1x Butter (Mantequilla)
Baked Suls with Cheese
(Suls at Horno con Queso)
24EP
1x Suls
1x Cheese Plate (Plato de Queso)
Baked Tarsk
(Tarsk al Horno)
36EP
1x Dwarf Tarsk (Tarsk Enano)
Bazi Tea (Ar)
(Te de Bazi)
*Secret Recipe*
Must be studied!
99EP Total
33EP per cup x 3
Bazi Tea (Basic)
(Te de Bazi)
66EP Total
33EP per cup x 2
1x Water (Agua)
1x Bazi Tea (Te de Bazi)
1x Milk (Leche)
Bazi Tea (Tahari)
(Te de Bazi)
*Secret Recipe*
Must be studied!
99EP Total
33EP per cup x 3
Bazi Tea (Torvaldsland)
(Te de Bazi)
*Secret Recipe*
Must be studied!
99EP Total
33EP per cup x 3
Bazi Tea Ice Cream
(Helado de Te de Bazi)
*Secret Recipe*
Must be studied!
117EP Total
39EP x 3
Bear Omelette
(Tortilla de oso)
*Secret Recipe*
Must be studied!
45EP
Beer Sausages
(Salchichas a la Cerveza)
24EP
1x Beer (Cerveza)
1x Cream (Nata)
1x Sausage (Salchichas)
Beer Tarsk
(Tarsk a la Cerveza)
60EP
1x Bacon (Beicon)
1x Suls
2x Tarsk Meat (Carne de Tarsk)
1x Beer (Cerveza)
Black Stew
(Guiso Negro)
27EP
1x Water (Agua)
1x Suls
1x Black Sausage (Morcilla)
Blackwine 1st Slave
(Vino Negro Primera Esclava)

180EP Total
9EP per sip x 10
= 90EP per cup
x 2
1x Water (Agua)
1x Blackwine (Vino Negro)
1x Milk (Leche)
Blackwine 2nd Slave
(Vino Negro Segunda Esclava)

180EP Total
9EP per sip x 10
= 90EP per cup x 2
1x Water (Agua)
1x Blackwine (Vino Negro)
Black Wine Ice Cream
(Helado de Vino Negro)
*Secret Recipe*
Must be studied!
117EP Total
39EP x 3
Blood Sausage Omelette
(Tortilla de Morcilla)
27EP
1x Suls
1x Black Sausage (Morcilla)
2x Egg (Huevo)
Blood Sausage with Suls & Egg
(Morcilla con Suls y Huevo)
24EP
1x Suls
1x Black Sausage (Morcilla)
1x Egg (Huevo)
Boiled Rice
(Arroz Hervido)
12EP
1x Water (Agua)
1x Rice (Arroz)
Bosk Soup
(Estofado de Bosk)
48EP
1x Water (Agua)
1x Butter (Mantequilla)
2x Bosk Meat (Carne de Bosk)
1x Paga Bowl (Cuenco de Paga)
Bread
(Pan)
19EP
1x Flour (Harina)
1x Water (Agua)
Breakfast Talender
(Desayuno Talendra)
*Secret Recipe*
Limited Edition - No Longer Available
Must be studied!
100EP
Bundt Cake
(Bizocho Corona)
30EP
2x Rence Flour (Harina de Rence)
1x Butter (Mantequilla)
3x Egg (Huevo)
Butter
(Mantequilla)
0EP
3x Cream (Nata)
Cake
(Bizcocho)
21EP
1x Flour (Harina)
3x Egg (Huevo)
1x Milk (Leche)
Cake House
(Tarta Casa)
*Secret Recipe*
Must be studied!
60EP Total
15EP per serve x 4
Caramel Chocolate
(Caramelo de Chocolate)
54EP Total
EP9 ea x 6
1x Cocoa (Cacao)
1x Honey (Miel)
Caramel Ka-la-na
(Caremelo de Ka-la-na)

45EP Total
9EP ea x 5
1x Bowl of Ka-la-na (Cuenco de Frutero de Ka-la-na)
1x Honey (Tarro de Miel)
Cheesecake
(Tarta de Queso)
24EP
1x Flour (Harina)
1x Butter (Mantequilla)
1x Cream (Nata)
3x Cheese (Queso)
Chocolate Bow
(Arco de Chocolate)
27EP
1x Butter (Mantequilla)
1x Rence Tortilla (Torta de Rence)
1x Cocoa (Cacao)
Chocolate Bundt Cake
(Bizcocho de Chocolate)
21EP
2x Egg (Huevo)
1x Flour (Harina)
1x Cocoa (Cacao)
1x Butter (Mantequilla)
Chocolate Cake
(Tarta de Chocolate)
*Secret Recipe*
Must be studied!
72EP Total
12EP x 6
Chocolate Chip Cookies
(Galletas de Chocolate)
30EP Total
EP6 x 5
1x Flour (Harina)
1x Butter (Mantequilla)
2x Egg (Huevo)
1x Cocoa (Cacao)
Chocolate Covered Bacon
(Bacon con Chocolate)
21EP
1x Butter (Mantequilla)
1x Bacon (Beicon)
1x Cocoa (Cacao)
Chocolate Covered Strawberries
(Fresas con chocolate)

36EP Total
9EP x 4
2x Strawberries
1x Milk
1x Cocoa

Chocolate Custard
(Natillas de Chocolate)
15EP
1x Milk (Leche)
1x Cocoa (Cacao)
1x Egg (Huevo)
Chocolate Heart
(Corazon de Chocolate)
21EP
1x Flour (Harina)
1x Egg (Huevo)
1x Milk (Leche)
1x Cocoa (Cacao)
Chocolate Ice Cream
(Helado de Chocolate)
42EP
1x Ice Cream (Helado)
1x Cocoa (Cacao)
Chocolate Ring Cake
(Rosco de Chocolate)
24EP
1x Butter (Mantequilla)
1x Flour (Harina)
1x Cocoa (Cacao)
1x Milk (Leche)
1x Egg (Huevo)
Chocolate Roll
(Brazo de Chocolate)
21EP
1x Rence Flour (Harina de Rence)
2x Egg (Huevo)
1x Cocoa (Cacao)
Chocolate Strawberry Cake
(Pastel fresa y choc)
*Secret Recipe*
Must be studied!
90EP Total
15EP x 6
Chocolate Truffles
(Trufas de chocolate)
*Secret Recipe*
Must be studied!
72EP Total
12EP x 6
Chowder
(Sopa de Pescado)
21EP
1x Water (Agua)
1x Fish (Pescado)
Coffee Cream Pie
(Tarta de Cafe y Nata)
39EP
1x Rence Flour (Harina de Rence)
1x Egg (Huevo)
1x Cream (Nata)
1x Black Wine (Vino Negro)
Cookies
(Galletas)
21EP
1x Milk (Leche)
1x Butter (Mantequilla)
1x Flour (Harina)
Cream
(Nata)
0EP
3x Milk (Leche)
Countess Frost
(Condesa Helada)
*Secret Recipe*
Must be studied!
? EP x 4
Cream Pancakes & Syrup
(Tortitas con Nata y Sirope)
27EP
1x Pancakes (Tortitas)
1x Cream (Nata)
1x Sirope
Cream Roll
(Brazo de nata)
*Secret Recipe*
Must be studied!
45EP
Croquettes
(Croquetas)
21EP
1x Flour (Harina)
1x Cream (Nata)
1x Mince (Carne Picada)
Crumbed Bosk
(Bosk Rebozado)
39EP
1x Bosk Meat (Carne de Bosk)
1x Flour (Harina)
2x Egg (Huevo)
1x Rence Bread (Pan de Rence)
Crumbed Vulo
(Vulo Rebozado)
27EP
1x Vulo
1x Flour (Harina)
2x Egg (Huevo)
1x Rence Bread (Pan de Rence)
Crumbs War
(Migas de Guerra)
33EP
1x Chorizo
1x Bacon (Beicon)
1x Rence Bread (Harina de Rence)
Custard Roll
(Brazo de crema)
*Secret Recipe*
Must be studied!
39EP
Dried Salted Tuna
(Mojama de Atun)
33EP
1x Tuna Portion (Porcion Atun)
Eel Soup
(Sopa de Anguila)

39EP

1x Water (Agua)
1x Eel (Anguila)
1x Butter (Mantequilla)
1x Flour (Harina)
Eel Stew
(Guiso de Anguila)
39EP
1x Water (Agua)
1x Suls
1x Wine (Vino)
1x Eel (Anguila)
Eggs au Gratin
(Huevos Rellenos)
24EP
2x Egg (Huevo)
1x Flour (Harina)
1x Mince (Carne Picada)
1x Milk (Leche)
1x Butter (Mantequilla)
1x Cheese Plate (Plato de Queso)
Eternal Kiss Cake
(Pastel beso eterno)
*Secret Recipe*
Limited Edition - No Longer Available
Must be studied!
100EP
Filled Torvis
(Torvis Relleno)
*Secret Recipe*
Must be studied!
72EP Total
18EP x 4
Fish with Fresh Tomatoes
(Pescado con Tomate)
21EP
1x Butter (Mantequilla)
1x Fish (Pescado)
2x Tomato (Tomate)
Flan
21EP
1x Sirope
4x Egg (Huevo)
2x Milk (Leche)
Flour
(Harina)
0EP
1x Grain (Grano)
Forest Getaway
(Escapada al bosque)
*Secret Recipe*
Limited Edition
Must be studied!
120EP Total
30EP x 4
Fresh Water
(Agua Fresca)
0EP
1x Water (Agua)
Fried Eel
(Anguila Frita)
39EP
1x Butter (Mantequilla)
1x Flour (Harina)
1x Eel (Anguila)
Fried Egg
(Huevo Frito)
15EP
1x Egg (Huevo)
Fried Fish
(Pescado Frito)
21EP
1x Flour (Harina)
1x Fish (Pescado)
Fried Larma with Honey
(Larma frita con miel)
30EP
1x Butter
2x Larma
1x Honey
Fried Suls with Egg
(Suls Fritas con Huevo)
18EP
1x Suls
1x Egg (Huevo)
Fruit Bowl of Grapes
(Frutero de Uvas)

60EP Total
12EP per bowl x 5
1x Basket of Grapes (Cesta de Uvas)
Fruit Bowl of Ka-la-na
(Frutero de ka-la-na)

60EP Total
12EP per bowl x 5
1x Basket of Ka-la-na (Cesta de Ka-la-na)
Fruit Cake
(Pastel de Fruta)
45EP
1x Rence Flour (Harina de Rence)
1x Butter (Mantequilla)
1x Egg (Huevo)
1x Cream (Nata)
1x Bowl of Ka-la-na (Frutero de Ka-la-na)
1x Bowl of Grapes (Frutero de Uvas)
Gorean Brownie
(Brownie Goreano)
24EP
1x Cocoa (Cacao)
1x Butter (Mantequilla)
1x Egg (Huevo)
1x Flour (Harina)
Grape Ice Cream
(Helado de Uva)

33EP
1x Ice Cream (Helado)
1x Bowl of Grapes (Frutera de Uvas)
Grilled Blood Sausage
(Morcilla a la Brasa)
21EP
1x Black Sausage (Morcilla)
Grilled Chorizo
(Chorizo Asado)
21EP
1x Chorizo
Grilled Eel
(Anguila a la Parrilla)
36EP
1x Butter (Mantequilla)
1x Eel (Anguilla)
Grilled Fish
(Pescado Asado)
21EP
1x Fish (Pescado)
Grilled Tuna & Rice
(Atun a la Plancha y Arroz)
39EP
1x Butter (Mantequilla)
1x Tuna Portion (Porcion atun)
1x Rice (Arroz)
Grilled Tuna Steaks
45EP
2x Tuna Portion (Porcion Atun)
Gruel
(Gachas)

60EP Total
15EP per bowl x 4
1x Flour (Harina)
Gruel with Fish
(Gachas con Pescado)

72EP Total
18EP per bowl x 4
1x Rence Flour (Harina de Rence)
2x Fish (Pescado)
Honey Candies
(Caramelos de Miel)

18EP Total
3EP ea x 6
1x Water (Agua)
1x Honey (Tarro de Miel)
Honey Ice Cream
(Helado de Miel)

33EP
1x Ice Cream (Helado)
1x Honey (Miel)
Hot Chocolate
(Chocolate Caliente)
18EP
1x Water (Agua)
1x Cocoa (Cacao)
1x Milk (Leche)
*1x Paga Bowl (Cuenco de Paga)
(*Optional add Paga)
Hunters Drunk Bosk Roll
(Rollo bosk borracho Hunters)

100EP
1x Butter
3x Bosk Meat
1x * Hunters * Appellation Wine
Ice Cream Cones (Dispenser)
(Cucuruchos)
*Secret Recipe*
Must be studied!
A - Cream
54EP Total
18EP x 3

B - Chocolate
90EP Total
30EP x 3

C - Strawberry
90EP Total
30EP x 3
Ice Cream Cup
(Copa de Helado)
30EP
1x Ice Cream (Helado)
Ice Cream Milkshake
(Batido de helado)
*Secret Recipe*
Must be studied!
45EP
- Bazi
- Black Wine
- Cocoa
- Strawberry

39EP
- Grape
- Honey
- Kalana

36EP
- Cream
Ice Cream with Paga
(Helado al Paga)
*Secret Recipe*
Must be studied!
39EP
Ice Cream with Syrup
(Helado con Sirope)
*Secret Recipe*
Must be studied!

72EP Total
39EP x 2
Jam
(Mermelada)
15EP
2x Bowl of Ka-la-na (Cuenco de Frutero de Ka-la-na)
OR 2x Bowl of Grapes (Frutero de Uva)
1x Water (Agua)
Jam Cake
(Tarta de Mermelada)
24EP
2x Egg (Huevo)
1x Flour (Harina)
2x Cream (Nata)
1x Jam (Mermelada)
Jam Dumplings
(Empanadillas de Mermelada)
24EP
1x Rence Tortilla (Tortas de Rence)
1x Jam (Mermelada)
Juk
39EP
1x Water (Agua)
1x Rice (Arroz)
1x Tuna Portion (Porcion atun)
1x Seaweed (Alga)
Kal-Da
24EP Total
6EP x 4
3x Appellation of Origin Wine Glass (any)
1x Bowl of Ka-la-na (Frutero de Ka-la-na)
1x Bowl of Grapes (Frutero de Uva)
1x Sugar (Azucar)
Ka-la-na Cake
(Tarta de Ka-la-na)
24EP
2x Egg (Huevo)
1x Flour (Harina)
2x Cream (Nata)
2x Bowl of Ka-la-na (Frutero de Ka-la-na)
Ka-la-na Ice Cream
(Helado de Ka-la-na)
36EP
1x Ice Cream (Helado)
1x Bowl of Ka-la-na (Frutero de Ka-la-na)
Ka-la-na Meringue Cake
(Pastel de Merengue y Ka-la-na)


21EP
6x Egg (Huevo)
1x Bowl of Ka-la-na (Frutero de Ka-la-na)
Kalana in Syrup
(Kalana en almibar)


18 EP
2x Serving Ka-la-na
1x Water
1x Sugar
Ka-Li-Mocho
12EP Total
3EP x 4
3x Wine (Copa Vino)
1x Sugar (Azucar)
Kasbah of Tor
(Kasbah de Tor)
*Secret Recipe*
Must be studied!
96EP Total
24EP ea x 4


Larded Tuna
(Atus Mechado)
51EP
2x Tuna Portion (Porcion Atun)
1x Bacon (Beicon)
1x Flour (Harina)
1x Butter (Mantequilla)
1x Suls
Larma & Cheese Toast
(Tostada larma y queso)
33EP
1x Rence Bread
1x Cheese Plate
2x Larma
Larma Cream
(Crema de Larma)
30EP
2x Larma
1x Milk
1x Cream
Larma Elixir
(Elixir de larma)
*Secret Recipe*
Must be studied!
12EP Total
3EP ea x 4
Larma Pie
(Tarta de Larma)
36EP
2x Larma
1x Flour
1x Butter
1x Egg
Larma Sauce
(Salsa de Larma)
33EP
2x Larma
1x Sugar
1x Cream
1x Egg
Lobster & Oysters
(Bogavante con Ostras)
*Secret Recipe*
63EP
Lobster Bisque
(Sopa de Bogavante)


39EP
1x Water (Agua)
1x Lobster (Bogavante)
1x Cream (Nata)
1x Paga Bowl (Cuenco Paga)
Lobster Cooked
(Bogavante Codcido)
24EP
1x Lobster (Bogavante)
Magdalenas
(Muffins)

24EP Total
3EP ea x 8
3x Egg (Huevo)
1x Milk (Leche)
1x Butter (Mantequilla)
1x Flour (Harina)
Marzipan Bunny
(Conejo de Mazapan)
*Secret Recipe*
Limited Edition - No Longer Available
Must be studied!
39EP
Mashed Suls with Bacon
(Pure de Suls con Tropezones)
27EP
1x Suls
1x Milk (Leche)
1x Butter (Mantequilla)
1x Bacon (Beicon)
1x Rence Bread (Pan de Rence)
Meatballs
(Albondigas)
27EP
1x Mince (Carne Picada)
1x Bread (Pan)
1x Milk (Leche)
Meatballs with Rence
(Albondigas con Rence)
30EP
1x Mince (Carne Picada)
1x Rence Bread (Pan de Rence)
1x Milk (Leche)
1x Rence Flour (Harina de Rence)
Meatballs with Tomato Sauce
(Albondigas con Tomate)
33EP
1x Water (Agua)
1x Flour (Harina)
1x Mince (Carne Picada)
2x Tomato Sauce (Salsa de Tomate)
Meatloaf
(Pastel de Carne)

27EP
1x Mince (Carne Picada)
1x Butter (Mantequilla)
3x Egg (Huevo)
Moon and Torvis
(Luna y Torvis)
33EP
1x Rence Flour (Harina de Rence)
1x Butter (Mantequilla)
1x Tomato Sauce (Salsa de Tomate)
1x Cheese (Queso)
1x Egg (Huevo)
Moon of Salmon
(Luna de Salmon)
33EP
1x Rence Flour (Harina de Rence)
1x Butter (Mantequilla)
1x Tomato Sauce (Salsa de Tomate)
1x Cheese (Queso)
1x Salmon
Moon Tarsk
(Luna Tarsk)
33EP
1x Rence Flour (Harina de Rence)
1x Butter (Mantequilla)
1x Tomato Sauce (Salsa de Tomate)
1x Cheese (Queso)
1x Bacon
Mottled Moon
(Luna Moteada)
33EP
1x Rence Flour (Harina de Rence)
1x Butter (Mantequilla)
1x Tomato Sauce (Salsa de Tomate)
1x Cheese (Queso)
1x Chorizo
Omen Year Vulo
*Secret Recipe*
Must be studied!

180EP Total
45EP x 4
Oyster Seaweed Soup
(Sopa de Ostras y Algas)


60EP
1x Water (Agua)
1x Seaweed (Alga)
1x Oyster (Ostra)
Oysters Iona
(Ostras Iona)
*Secret Recipe*
Must be studied!
60EP
Oysters Plate
(Ostras)


42EP
2x Oyster (Ostra)
Oysters with Chorizo
(Ostras con Chorizo)


60EP
1x Butter(Mantequilla)
2x Oyster Ostra)
1x Chorizo
Pancakes
(Tortitas)
21EP
1x Flour (Harina)
2x Egg (Huevo)
2x Milk (Leche)
1x Butter (Mantequilla)
Pancakes with Chocolate
(Tortitas con Chocolate)
27EP
1x Pancakes (Tortitas)
1x Milk (Leche)
1x Cocoa (Cacao)
Pasha Dates
(Datiles del Pasha)
1x Dates Portion
1x Rence Bread
1x Cheese Plate
Pie of Grape
(Tarta de Uva)
24EP
2x Bowl of Grapes (Cuenco de Frutero de Uva)
1x Butter (Mantequilla)
1x Flour (Harina)
1x Egg (Huevo)
Pretzel
*Secret Recipe*
Must be studied!
45EP
Puff Pastry Heart
(Corazon de Hojaldre Relleno)
33EP
2x Rence Flour (Harina de Rence)
1x Butter (Mantequilla)
1x Egg (Huevo)
1x Jam (Mermelada)
Puff Salmon
(Hojaldre de Salmon)
39EP
2x Rence Flour (Harina de Rence)
1x Butter (Mantequilla)
3x Egg (Huevo)
1x Salmon
Red Moon
(Luna Roja)
30EP
1x Rence Flour (Harina de Rence)
1x Butter (Mantequilla)
1x Tomato Sauce (Salsa de Tomate)
1x Cheese (Queso)
Red Stew
(Guiso Rojo)
21EP
1x Water (Agua)
1x Chorizo
Reindeer Donuts
( Renos Rosquilla)
*Secret Recipe*
Limited Edition - No Longer Available
Must be studied!
21EP
Rence Arrows
(Flechas de Rence)
30EP
1x Rence Tortilla (Tortas de Rence)
1x Bacon (Beicon)
1x Cheese (Plato de Queso)
1x Rice (Arroz)
Rence Bread
(Pan de Rence)
18EP
1x Rence Flour (Harina de Rence)
1x Water (Agua)
Rence Flour
(Harina de Rence)
0EP
1x Rence Bale (Fardo de Rence)
Rence Rolls
(Rollitos de Rence)
30EP
1x Rence Tortilla (Tortas de Rence)
2x Mince (Carne Picada)
1x Cheese (Plato de Queso)
Rence Tortilla
(Tortas de Rence)
18EP
1x Rence Flour (Harina de Rence)
1x Butter (Mantequilla)
Rence Torvis
(Torvis de Rence)
27EP
1x Rence Tortilla (Tortas de Rence)
1x Mince (Carne Picada)
1x Cheese (Plato de Queso)
Rice Pudding
(Arroz con Leche)
15EP
1x Milk (Leche)
1x Rice (Arroz)
Rice with Lobster
(Arroz con Bogavante)


72EP Total
12EP per bowl x 6
1x Lobster (Bogavante)
1x Butter(Mantequilla)
1x Sake
1x Water (Agua)
2x Rice (Arroz)
Rice with Tomato
(Arroz con Tomate)
18EP
1x Tomato Sauce (Salsa de Tomate)
1x Rice (Arroz)
Rice with Tomato and Egg
(Huevo Frito con Arroz y Tomate)
21EP
1x Water (Agua)
1x Rice (Arroz)
1x Tomato Sauce (Salsa de Tomate)
1x Egg (Huevo)
Rice with Verr
(Arroz con Verr)
33EP
2x Verr Meat (Carne de Verr)
1x Rice (Arroz)
1x Water (Agua)
Rice with Vulo
(Arroz con Vulo)
30EP
1x Vulo
1x Rice (Arroz)
1x Water (Aqua)
Roast Bosk
(Carne Asada)
36EP
1x Bosk Meat (Carne de Bosk)
Roast Vulo
(Vulo Asado)
21EP
1x Vulo (Carne de Vulo)
Roasted Large Vulo
(Vulo Grande Asado)

54EP Total
18EP per portion x 3
1x Large Vulo (Vulo Grande)
Roasted Vulo with Stuffing
(Vulo grande Relleno)
*Secret Recipe*
84EP Total
21EP per portion x 4
Rotnaros Balls of Fire [G&S]
(Bolas de fuego Rotnaros)
100EP
1x Water (Agua)
1x Flour (Harina)
1x Egg (Huevo)
1x Mince (Carne Picada)
1x * Rotnaros * Appellation Wine
Rotnaros Tarsk Ribs
(Costillas tarsk Rotnaros)
51EP
1x Butter
3x Tarsk Meat
1x * Rotnaros * Appellation Wine
Sake Steamed Fish
(Pescado con Sake al Vapor)
33EP
1x Water (Agua)
1x Rice (Arroz)
1x Fish (Pescado)
1x Butter (Mantequilla)
1x Sake
Salmon & Cheese Cream
(Salmon y Crema de Queso)
39EP
1x Rence Bread (Harina de Rence)
1x Cream (Nata)
2x Cheese (Queso)
1x Salmon
Salmon Grapes
(Salmon a las Uvas)
36EP
1x Butter (Mantequilla)
1x Bowl of Grapes (Fruta de Uvas)
1x Wine (Vino)
1x Salmon
1x Cream (Nata)
Salmon with Larma
(Salmon con larma)
42EP
1x Butter
1x Salmon
1x Wine Glass
2x Larm
Salmon & Scrambled Eggs
(Salmon y Huevos Revueltos)
36EP
1x Rence Bread (Pan de Rence)
3x Egg (Huevo)
1x Salmon
Salmon Soup
(Sopa de Salmon)
36EP
1x Butter (Mantequilla)
1x Suls
1x Water (Agua)
1x Salmon
1x Cream (Nata)
Sausage with Rice & Eggs
(Salchichas con Arroz y Huevos)
30EP
1x Rice (Arroz)
1x Sausage (Salchichas)
2x Egg (Huevo)
Sausages with Suls & Egg
(Salchichas cons Suls y Huevo)
27EP
1x Suls
1x Sausage (Salchichas)
1x Egg (Huevo)
Sirope
15EP
1x Water (Agua)
2x Bowl of Ka-la-na (Frutero de Ka-la-na)
OR 2x Bowl of Grapes (Frutero de Uva)
Smoked Eel
(Anguila Ahumada)
39EP
1x Eel (Anguila)
1x Sake
1x Rice (Arroz)
1x Egg (Huevo)
Smoked Salmon
(Salmon Ahumado)
33EP
1x Water (Agua)
1x Salmon
1x Butter (Mantequilla)
Snowy Tree
(Arbol Nevado)
*Secret Recipe*
Limited Edition - No Longer Available
Must be studied!
90EP Hot / 45EP Cold
Sparrow Song Shields [G&S]
(Escudos Sparrow Song)
100EP
1x Egg (Huevo)
1x Milk (Leche)
1x Flour (Harina)
1x Mince Carne Picada)
1x * Sparrow Song * Appellation Wine
Steak Tartar
24EP
1x Mince (Carne Picada)
1x Egg (Huevo)
Stewed Tomatoes
(Estofado de Tomates Guisados)
15EP
1x Butter (Mantequilla)
3x Tomato (Tomate)
Strawberries and Cream
(Fresas con nata)
15 EP
2x Cream
1x Strawberries
Strawberry Cheesecake
(Tarta de queso y fresas)



24EP Total
6EP x 4
1x Butter
1x Cheese
1x Cream
1x Strawberries
Strawberry Ice Cream
(Helado de Fresa)

39EP
1x Ice Cream (Helado)
1x Strawberries (Fresas)
Strawberry Milkshake
(Batido de fresa)
6EP Total
3EP x 2
2x Strawberries
2x Milk
1x Sugar
Strawberry Pancakes
(Tortitias con fresas)
18EP Total
9EP x 2
1x Pancakes
1x Jam
1x Strawberries
Stuffed Tomatoes
(Tomates Rellenos al Horno)
30EP
4x Tomato (Tomate)
1x Mince (Carne Picada)
1x Cheese (Queso)
Sugarcane Juice
(Zumo de cana de azucar)
12EP Total
3EP x 4
1x Water (Agua)
1x Sugar (Azucar)
Suls & Beef Stew
(Estofado de Suls y Carne)
36EP
1x Water (Agua)
1x Bosk Meat (Carne de Bosk)
OR 1x Verr Meat (Carne de Verr)
1x Suls
Suls Omelette
(Tortilla de Suls)
21EP
1x Suls
2x Egg (Huevo)
Suls with Chorizo
(Suls con Chorizo)
24EP
1x Water (Agua)
1x Suls
1x Chorizo
Sushi

108EP Total
27EP per serve x 4
1x Water (Agua)
1x Rice (Arroz)
1x Seaweed (Alga)
1x Egg (Huevo)
1x Tuna Portion (Porcion Atun)
1x Salmon
1x Eel (Anguila)
Sweet Bread
30EP
2x Rence Flour (Harina de Rence)
1x Milk (Leche)
1x Butter (Mantequilla)
1x Egg (Huevo)
Sweet Kiss
(Pastel Dulce Beso)
*Secret Recipe*
Limited Edition - No Longer Available
Must be studied!
33EP
Tarsk Food
(Comedero de Tarsk)
0EP
1x Water (Agua)
2x Flour (Harina)
2x Suls
PLUS:
1x Vulo
OR
1x Bosk Meat (Carne de Bosk)
OR
2x Verr Meat (Carne de Verr)
OR
4x Fish (Pescado)
OR
2x Bowls of Grape (Cuenco de Uva)
OR
2x Bowls of Ka-la-na (Cuenco de Ka-la-na)
Tarsk in Ka-la-na Sauce
45EP
2x Bowl of Ka-la-na (Frutero de Ka-la-na)
2x Cream (Nata)
2x Tarsk Meat (Carne de Tarsk)
Tarsk Roast with Egg
45EP
2x Tarsk Meat (Carne de Tarsk)
1x Egg (Huevo)
Tarsk Roast with Egg & Suls
33EP
1x Tarsk Meat (Carne de Tarsk)
1x Suls
1x Egg (Huevo
Tarsk Rosbif
60EP
3x Tarsk Meat (Carne de Tarsk)
1x Butter (Mantequilla)
1x Flour (Harina)
1x Suls
1x Beer (Cerveza)
Tarsk Steak
(Filete de Tarsk)
21EP
1x Tarsk Meat (Carne de Tarsk)
Tarsk Stew
(Guiso de Tarsk)
60EP
1x Water (Agua)
2x Tarsk Meat (Carne de Tarsk)
1x Chorizo
1x Black Sausage (Morcilla)
Tarsk Stew with Suls
(Calderata de Tarsk)
60EP
3x Tarsk Meat (Carne de Tarsk)
1x Water (Agua)
2x Suls
Tarsk with Tomatoes
(Tarsk con Tomate)
27EP
1x Suls
2x Tarsk Meat (Carne de Tarsk)
1x Tomato Sauce (Salsa de Tomate)
Tomato Sauce
(Salsa de Tomate)
0EP
3x Tomato (Tomate)
Tomato Soup
(Sopa de Tomata)
27EP
1x Water (Agua)
1x Butter (Mantequilla)
2x Tomato (Tomate)
1x Rence Bread (Pan de Rence)
Tor Dates
(Datiles de Tor)
1x Rence Bread
1x Dates portion
1x Butter
Tuna Castillo de Arena
(Atun Castillo de Arena)
2x Tuna
1x Rence Flour
1x Jam
1x * Castillo de Arena * Appellation Wine
Tuna Foxfort
(Atun Foxfort)
2x Tuna
1x Butter
1x Tomato
1x * Foxfort * Appellation Wine
Tuna Melt
(Tostada Atun y Queso)
39EP
1x Rence Bread (Pan de Rence)
1x Tuna Portion (Porcion Atun)
1x Cheese (Queso)
Tuna & Potato Stew
(Guiso Marmitako)
51EP
1x Butter (Mantequilla)
1x Suls
1x Chorizo
2x Tuna Portion (Porcion Atun)
Tuna Rotnaros
(Atun Rotnaros)
2x Tuna
1x Rence Flour
1x Tomato
1x * Rotnaros * Appellation Wine
Tuna Souffle
(Souffle de Atun)
42EP
1x Cream (Nata)
1x Flour (Harina)
2x Egg (Huevo)
1x Tuna Portion (Porcion Atun)
1x Cheese (Queso)
Tuna Steak with Sake
(Atun con Sake)
33EP
3x Sake
1x Tuna Portion (Porcion Atun)
Tuna with Tomatoes
(Atun con Tomate)
24EP
1x Suls
1x Tuna Portion (Porcion Atun)
3x Tomato (Tomate)
Verr Chops
(Chuletas de Verr)
30EP
2x Verr Meat (Carne de Verr)
Vulo with Larma
(Vulo con larma)
51EP
1x Butter
1x Vulo
1x Sake
3x Larma
Verr Skewers
(Pincho de Verr)
15EP
1x Verr Meat (Carne de Verr)
Verr Stew with Beer
(Caldereta de Verr a la Cerveza)
36EP
3x Verr Meat (Carne de Verr)
1x Beer (Cerveza)
Vulo Drumsticks
(Muso de vulo)
*Secret Recipe*

99EP Total
33EP per serve x 3
Vulo Soup
(Sopa de Vulo)
27EP
1x Water (Agua)
1x Suls
1x Vulo
2x Egg (Huevo)
Vulo with Grapes
(Vulo con Uva)
27EP
1x Vulo
1x Bowl of Grapes (Frutero de Uvas)
Wintmeringue
(Merengue Invernal)
*Secret Recipe*
Limited Edition - No Longer Available
Must be studied!
90EP Hot / 45EP Cold