Fishing
---

Fishing Rod 2.0 / Cana de pescar
Fish and other Seafood caught will deteriorate if not stored in containers and salted for preservation (see Salt Mine). Baskets (manufactured on the Basketwork) and box models A- G (manufactured on the Carpentry) are used with the Packaging and Labeling (Seafood) [G&S] table.
Without packaging and salt the expiry time of fish is 2 days, all other seafood is 5 days. Once packaged and salted they will not deteriorate.
Packaging and Labeling (Seafood) /Empaquetadora y Etiquetadora (Pescados)
– packages fish to maximum of 100, salmon/eel/oysters/seaweed/tuna to 20 into boxes or baskets. You can add custom texture (full perm) to label boxes or label with the default G&S logo with picture of content. (Help and information Packaging & Labeling (Seafood) )
– Needs SL water a couple of meters deep to fish.
– Wear RP-Hud to cast rod to catch fish & prizes.
– Fishing button is below the yellow arrow on the RP-Hud, click to fish. Grey = waiting (click to ready the rod). Blue = ready to fish (click to cast). Green = capture caught (click to reel in)
– "Corchuela: Ready" message in local chat when the rod is cast, if you do not see that message you must cast your rod again and check you are not casting onto land or an object and water is deep enough.
– Special bait is cooked on stove (5x fish) to get bonus +1 to obtain a Capture. Rez the bait & click to load into the rod.
– Must rez object "Capture [G&S]" on the ground, as soon as you can, on the same sim where you caught  it.
– Fish at active Tuna Tournament sims to enter the competition to win G&S coins with the biggest, best tuna! Only on active tuna sims can you catch the tuna, salmon, eel, seaweed, secret recipe/formula bottle to study on desk & other special prizes.
Information & Help Files:
(scroll down in documents for English and other language translations)
– Fishing Rod 2.0
– Fishing Rod (old fishing rod – works for normal fishing only, does not catch tuna or special prizes at tuna tournaments)
– Fishing Notes (Alum Dagger, Scribe)
---
G&S Recipes: Ingredient Fish
Bacon Pie
(Pastel de Bacon)
36EP
1x Suls
1x Butter (Mantequilla)
1x Bacon (Beicon)
2x Egg (Huevo)
1x Fish (Pescado)
Bait
Special for Fishing Rod [G&S] 2.0
0EP
5x Fish (Pescado)
Chowder
(Sopa de Pescado)
21EP
1x Water (Agua)
1x Fish (Pescado)
Fried Fish (Pescado Frito)
21EP
1x Flour (Harina)
1x Fish (Pescado)
Grilled Fish
(Pescado Asado)
21EP
1x Fish (Pescado)
Gruel with Fish
(Gachas con Pescado)
18EP per bowl x 4 = Total 72EP
1x Rence Flour (Harina de Rence)
2x Fish (Pescado)
Sake Steamed Fish
(Pescado con Sake al Vapor)
33EP
1x Water (Agua)
1x Rice (Arroz)
1x Fish (Pescado)
1x Butter (Mantequilla)
1x Sake
Tarsk Food
(Comedero de Tarsk)
1x Water (Agua)
2x Flour (Harina)
2x Suls
PLUS:
1x Vulo
OR
1x Bosk Meat (Carne de Bosk)
OR
2x Verr Meat (Carne de Verr)
OR
4x Fish (Pescado)
OR
2x Bowls of Grape (Cuenco de Uva)
OR
2x Bowls of Ka-la-na (Cuenco de Ka-la-na)
---
Tuna Tournament / Tourneo de atun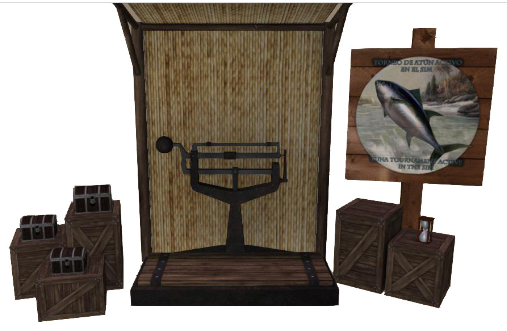 – 3 day public or private G&S tuna tournament on sim to catch tuna, salmon, eel, seaweed & a secret recipe/formula & special prizes.
– Can add extra coins & gifts as prizes for tuna competition.
– Weigh (rez) tuna near the tournament scales to check weight.
– Link to active tuna tournament sims and list of special prizes www.guardiandelassombras.com/ZonaPesca/pesca.php

Information & Help Files:
– Tuna Tournament Kit