Lar-Torvis Market
---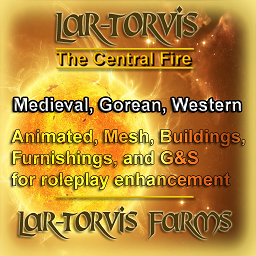 Owner: Xes Cela
SecondLife Group: ~Lar-Torvis~
Lar-Torvis Market is a full service scenic market for sellers and buyers, set in an eye pleasing environment, rather than rows of 'ticky-tacky' stalls.  Lar-Torvis Farms, specializes in wines (grape and ka-la-na).  Men, and slaves, come to our role play tavern, and enjoy a free sample of our wines and beverages, and enjoy a meal, as you take a break from your shopping.  Free Women, we have a nice table with tasty treats and ka-la-na next to the tavern.
We have a huge yardsale area, where you can pick up savings on all G&S products (as they are available), and supplies.  We have a free to use study area, and a complete supply of parchments, and study sets.
Lar-Torvis Market is set next to Lar-Torvis where you can find buildings, furnishings, and accessories for your roleplay area, farm, or market.  Lar-Torvis sells a wide variety of G&S specific items, such as vendor boxes, mesh item specific vendors, corrals, buildings, and many other items to enhance your G&S experience.
Market Services: Stalls, shelves, pens, raffles and RP tavern.